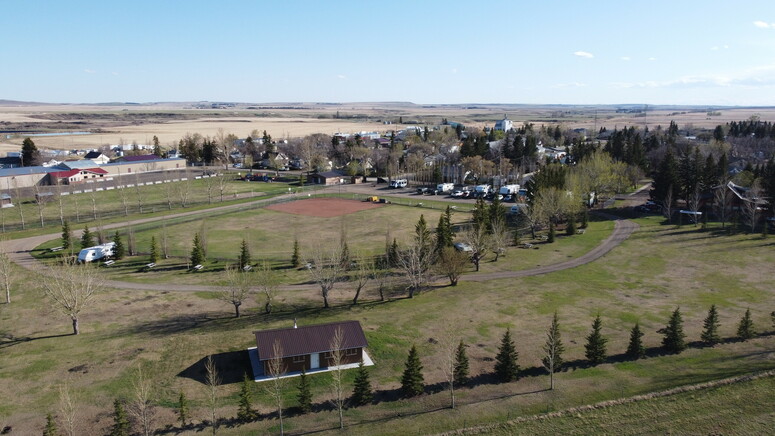 Online Booking at campreservations.ca
Our campsite is now available to book using campreservations.ca. Please follow the link below:
Photos: 
Rockyford Campsite: Village of Rockyford
PRICING
Full Service:
$30.00/Night
$650.00/Month
Power & Water:
$25.00/Night
$650.00/Month
Dry Camping:
Dumping:
Free with camping, $5.00 with no camping
Storage:
$20.00/Month
Payable 6 months in advance



INFORMATION
Full service bathrooms with flush toilets and coinless showers.
The playground is located right next to the campground for easy supervision and access.
Picnic tables and fire pits provided to all serviced sites.
Baseball Diamond and Horse Shoe Pits.
Sites # 1 – 5 are Full Services in the summer (power, water & sewer) and in the winter they are only Power & Water
Sites # 7 – 12 are Full Service all year round.
All of the power sites (#1-30) are equipped with 30 amp power.
Sites 1 – 12 are located on gravel pads, Sites 13 – 30 are located on grass.
To book please go to Book Campgrounds Online at CampReservations.ca or contact the office.
If you are looking for long term camping, our office would be delighted to assist in order to insure you are in a suitable spot for the duration of your stay and to ensure you receive the long term camping rates.
Booking for Rodeo weekend and Bullarama must be done through the village office.
For group camping please contact the village office as we do have designated spots for larger groups.
We do not issue refunds.



Directions
Rockyford is located in the County of Wheatland, 20 KM North of TransCanada Highway, 90 KM North East of Calgary and 70 KM South West of Drumheller.
1 Street East, Rockyford, AB T0J 2R0 – Located at the East side of the Village.


Rules
Check in time: any time after 12 noon
Check out time: 12 noon
Quiet time: 11:00 p.m. – 7:00 a.m. Music must be kept at reasonable levels at all times.
Speed limit: 10 km/hr
Two vehicles and one recreational unit per site. Vehicles must be registered and insured.
Tents are permitted with condition that they are in your site and being used by children/family that arrived with your party.
Alcoholic beverages are allowed in your site.
Unruly and/or intoxicated behavior will not be tolerated.
Please put garbage in the appropriate locations set up in the park.
Please recycle cans and bottles.
Please keep your site clean and tidy.
No furniture other than outdoor camping furniture allowed in the sites.
Pets must be on a leash and under control at all times.
Pets are not allowed in washrooms or other buildings.
Do not leave your pets unattended in your unit or site.
Parents are responsible for their children in the playground area.
Management will not be held responsible for any injuries from use of playground equipment.
No major repairs or oil changes.
No trespassing in private or restricted areas around the campground or on the space of others.
Do not leave your fires unattended or leave without fully extinguishing your campfire.
You must bring your own firewood.
Moving of fire pits is prohibited.
Any vandalism including destroying trees, will be subject to a $500.00 charge and will result in eviction from the campground without refund.
Management reserves the right to refuse service to anyone and will not be held responsible for any accidents, injuries, loss or damages due to fire, theft, accident or Acts of God.